April 12, 2014 1:03 pm
Leave your thoughts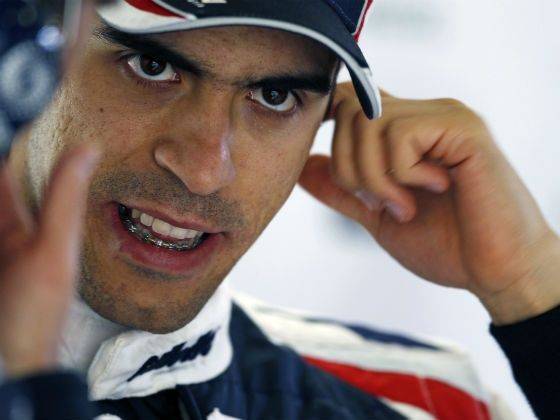 Best WDC Finish for Williams: 15th (2012) (24th on Williams' all time list)
Total number of races entered for Williams: 58 (9th)
Total points: 47 (18th)
Best result for Williams: 1st (x1) Spanish GP 2012 (16th)
Debut: 2011 Australian GP
Last Race: 2013 Brazillian GP

Head to head qualifying vs team-mate:
2011
Maldonado 8 – 11 Barrichello
Australia- 15 – 17
Malaysia 18 – 15
China 17 – 15
Turkey 14 – 11
Spain 9 – 19
Monaco 8 – 12
Canada 12 – 16
Europe 15 – 13
Britain 7 – 15
Germany 13 – 14
Hungary 17 – 15
Belgium 16 – 14
Italy 14 – 13
Singapore 13 – 12
Japan 14 – 13
Korea 16 – 18
India 16 – 14
Abu Dhabi 17 – 24
Brazil 18 – 12
2012
Maldonado 18 – 2 Senna
Australia 8 – 14
Malaysia 11 – 13
China 13 – 14
Bahrain 17 – 15
Spain 2 – 18 (1/17)
Monaco 9 – 14 (23/13)
Canada 17 – 16
Europe 3 – 14
Britain 7 – 15
Germany 6 – 15
Hungary 8 – 9
Belgium 3 – 17
Italy 12 – 14 (22/13)
Singapore 2 – 17
Japan 14 – 18
Korea 15 – 18
India 9 – 13
Abu Dhabi 3 – 14
USA 10 – 11
Brazil 6 – 12
2013
Maldonado 7 – 11 Bottas
Australia 17 – 16
Malaysia 16 – 18
China 15 – 17
Bahrain 17 – 15
Spain 18 – 17
Monaco 16 – 14
Canada 13 – 3
Britain 15 – 16
Germany 18 – 17
Hungary 15 – 16
Belgium 17 – 20
Italy 15 -18
Singapore 18 – 16
Korea 18 – 17
Japan 15 – 13
India 18 – 15
Abu Dhabi 15 – 16
USA 18 – 9
Brazil 17 – 13
Head to head points vs team-mate:
Maldonado 1 – 4 Barrichello
Maldonado 45 – 31 Senna
Maldonado 1 – 4 Bottas
Race head to head results
2011
Maldonado 5 – 6 Barrichello
Australia- DNF DNF
Malaysia DNF DNF
China 18 – 13
Turkey 17 – 15
Spain 15 – 17
Monaco DNF – 9
Canada DNF – 9
Europe 18 – 12
Britain 14 – 13
Germany 14 – DNF
Hungary 16 – 13
Belgium 10 – 16
Italy 11 – 12
Singapore 11 – 13
Japan 14 – 17
Korea DNF – 12
India DNF – 15
Abu Dhabi 14 – 12
Brazil DNF – 14
2012
Maldonado 6 – 6 Senna
Australia DNF DNF
Malaysia DNF – 6
China 8 – 7
Bahrain DNF DNF
Spain 1 – DNF
Monaco DNF – 10
Canada 13 – 17
Europe 12 – 10
Britain 16 – 9
Germany 15 – 17
Hungary 13 – 7
Belgium DNF – 12
Italy 11 – 10
Singapore DNF – 18
Japan 8 – 14
Korea 14 – 15
India 16 – 10
Abu Dhabi 5 – 8
USA 9 – 10
Brazil DNF – DNF
2013
Maldonado 9 – 5 Bottas
Australia DNF – 14
Malaysia DNF – 11
China 14 -13
Bahrain 11 – 14
Spain 14 – 16
Monaco DNF – 12
Canada 16 – 14
Britain 11- 12
Germany 15 – 16
Hungary 10 – DNF
Belgium 17 – 15
Italy 14 – 15
Singapore 11 – 13
Korea 13- 12
Japan 16 – 17
India 12 – 16
Abu Dhabi 11 – 15
USA 17 – 8
Brazil 16 DNF
Context
Having dominating Formula Renault 2.0 Italy in 2004, Pastor Maldonado tested for Minardi, impressing the visiting former team owner Giancarlo Minardi. He then went on to get banned for 4 races after he failed to slow down during his Formula 3000 season. He finished 3rd in Formula Renault 3.5, losing the title on a technical infringement, before taking 3 seasons getting fully up to speed in GP2. Season 1 was injury affected, finishing 11th, season 2 he finished 5th, season 3 he finished 6th, dominated by teammate Nico Hulkenberg, before finally dominating GP2 himself in 2010 to win the title ahead of Perez, as the most successful GP2 driver in history.
During 2009, Pastor was targeted by both Campos Meta and Stefan GP to race for them in 2010, until both projects fell through. After winning the GP2 title, Maldonado competed in the end of season young driver test with both Hispania and Williams where he impressed the paddock with his speed. Mid-recession, Williams were reeling from the loss of major sponsors RBS, at&t, and Phillips, and were desperately looking for a way to fill a big hole in the budget. Maldonado brought with him a rumoured £30,000,000 of backing from the Venezuelan Government in the form of PDVSA sponsorship- a lifeline that enabled Williams to maintain their position as a midfield-sized team. In the end, Nico Hulkenberg was dismissed despite having a strong rookie season, the same man who had beaten him first time out as his teammate in at ART GP two years prior. It was a suitably controversial start for Mr Maldonado.
Parr stated categorically that Pastor Maldonado was not a "pay driver" and that he was there on merit. Whilst his speed and right to be in F1 was beyond question, muddying the waters was the sense that both his appointment and departure to Lotus were not based on purely meritocratic grounds, and would not have earned the drive in 2011 had Wiliams not been in need of the money. Hulkenberg was forced to spend 2011 as a Force India third driver.
The cars

2011 / FW33
A season dominated by exhaust blown diffusers, Williams allegedly refused to pay Cosworth the funds required to invest in the necessary engine mapping. This saw Williams slip back from 6th in the standings in 2010 to 9th in the standings in 2011. The FW33 made into the top 10 in qualifying on 3 occasions in Maldonado's hands, but would routinely slip back in races due to the car being hard on its tyres. 2011 would prove to be Williams' least competitive season, ending up with 5pts, 36pts adrift of Toro Rosso in 8th, with a best finish of 9th. This failure resulted in a technical reshuffle, with Sam Michael, Technical Director, and Jon Tomlinson, head of aerodynamics departing, and Mike Coughlan, Jason Somerville and Mark Gillan arriving to work on the FW34.

2012 / FW34
For 2012, the FIA changed the regulations in an attempt to negate the EBD effect. Initially, they succeeded in curbing the effect, and Williams, who had never got on top of the technology, enjoyed a reprove, aided in part by a new partnership with Renault, which offered improved engine mapping and better power delivery. Williams qualified in the top 10 on 14 occasions, 13 of those in Maldonado's hands. Williams scored 78pts, and finished 8th in the Constructors Championship, but general consensus was that 8th was a poor reflection of the car's potential, with blame divided between it's two pay drivers; Pastor making too many errors, and Senna proving too slow.

2013 / FW35
The FW35 was probably the least competitive car Williams have ever produced. As teams found ways to channel exhaust gasses onto the diffuser, Williams struggled to master the coander effect resulting in nervous, unpredictable handling. Compounding the issue, Williams' intended solution, including a bridge over the exhaust pipe exit was deemed illegal by the FIA, leaving the team all at sea. They made it into the top 10 on only two occasions in qualifying- both times with Bottas. They fared little better in the races. Technical Director Mike Coughlan consequently resigned, making way for Pat Symond's arrival. By the time of the USA GP, new technical director Pat Symonds requested that the system be dropped, which resulted in a significant improvement in performance on Bottas' side, but too late to make any difference to their constructors' position. Maldonado failed to capitalise, and went so far as to accuse the team of tampering with his tyre pressures before later apologising.
the good
2011
His Qualifying;
Maldonado qualified in the top 10 on 3 occasions in 2011, sometimes overshadowing his experienced teammate Barrichello by some startling margins in the dry in Spain, Britain and Monaco, on merit. (6 tenths in Britain, 5 in Monaco) Barrichello won the qualifying battle 11 -8 on account of better consistency, but Maldonado had made a big impression during his rookie year.
His Races

Monaco was the stand out performance of the season for Williams. Starting 8th, running up to 7th at the start, then in 6th, Pastor's level of performance here was impressive. Had he finished 6th he would have earned himself 8 pts, with Barrichello in 10th. As a result of a collision with Hamilton, where blame lay generally in Lewis' direction, Williams' lost their best opportunity of the season. Barrichello never peaked as high. The points could have been 9 – 3 to Maldonado but for Hamilton's frustrated attempt to overtake, and Pastor's refusal to make room. What had been a great race for Williams ended in bitter frustration.
Towards the end of the season, the much maligned Venezuelan started beating Barrichello consistently in the races. Between Hungary and Singapore, Maldonado finished ahead of Barrichello on four successive occasions, scoring his first points in Belgium along the way despite being sent to the back of the grid after he and Hamilton played a rough game of chicken in qualifying. A impressive effort.
This left many people questioning whether, after 20 seasons, Rubens was finally losing his edge. IMO, I feel this was an unfair conclusion to draw, as it ignored the speed Maldonado had demonstrated at Monaco and GP2. It could have simply been a case of a fast rookie finally getting up to speed. Regardless, it was Pastor's performance relative to Barrichello that contributed towards Rubens Barrichello losing his race seat for 2012. What business did a rookie pay driver have beating the team leader? Maldonado would turn the whole concept on it's head, to the extent that the pay driver would become the team leader for 2012; an unprecedented scenario.
2012
Enjoying a car well suited to his aggressive turn-in style, Maldonado's qualifying performances in 2012 were superb. 13 times within the top 10, his performance level was consistently high, and when he peaked, he peaked very high- 2nd in Spain which became pole after Hamilton was disqualified, 2nd again in Singapore, 3rd in Abu Dhabi, Belgium, Europe, all in the dry. Could Barrichello have peaked this high in the same car? The best Senna could manage was a single 9th place in Hungary. the margin between them was at times, staggering.

The Australian GP 2012
After a season of misery in 2011, and with morale fairly low in light of the driver line up, Maldonado provided a welcome break from all the despondency, Qualifying 8th, and racing in 6th- it was a great weekend for him, right up until the penultimate lap, whilst his teammate was nowhere to be seen. If you found it inconceivable that such errors would become a bad habit, the Australian GP provided a huge lift for the team and fans. It left everyone feeling hungry, and optimistic for the season to come, even if it did feel like cruelly to dangle success about without delivering a result.
The Spanish GP
Considering the midfield to low-midfield position Williams had occupied in recent years, Pastor Maldonado's win in the 2012 Spanish GP was electrifying. However good the FW34 was, Pastor, who outshone Barrichello in Spain the previous year dragged the car up to the top of the order after Hamiltons' disqualification. In the race, he managed his tyres better than Alonso, enabling him to pit earlier than Alonso to undercut him, confident he could make his tyres last the distance. As it turned out, Alonso pushed his tyres too hard trying to get on terms with him, dropping back by the end of the race. An immaculate performance from Pastor, beating the very best, seemingly immune to the pressure Alonso put him under to win his first Grand Prix for himself and his nation, having never got close to the podium up until then. Many people, SFW included, started taking about him as a potential future world champion.
Williams had won for the first time in 8 years- and in style.
Watching the podium celebrations provided a welcome, long overdue reminder of what this sport is all about. A tremendous tonic for team and fans alike. That day, every team up and down the pitlane offered Williams their congratulations- which was almost unheard of in paddock circles, and was only made possible by Maldonado's drive. Such a public endorsements was priceless, particularly after enduring a difficult period in which their very presence as a struggling privateer had been called into question by customer cars and manufacturers.
Frank Williams 
"I don't think I saw him make one single error. But he drove well above one's expectations, and he's a brilliant racing driver, maybe even a possible future world champion, very un-latin, and a pleasure to be around. We really needed that!"
The rest of 2012- highlights
Following his win, Maldonado qualified 3rd and raced in the top 7 in Europe before colliding with Hamilton hunting down a second podium for Williams. Qualifying 7th, he was running comfortably in the top 8 in Britain before coming together with Perez.
Singapore GP
he put in an excellent drive in Singapore, racing competitively, a long way clear of those behind, and challenging the leaders for a podium and possible win, before sadly, he suffered a hydraulics failure on lap 36.
Abu Dhabi
The same pattern played out in Abu Dhabi, racing in second position behind Raikkonen before losing places due to a KERS failure which otherwise Pastor claims he could have won. He ultimately finished 5th.
Had Maldonado scored podiums in both, or either of these races, his contributions to the team may have been looked on more favourably.
Despite numerous errors (which, for the sake of balance, I am getting to in a moment) his race pace was consistently strong compared to Senna. In Hungary he was eclipsed by his teammate, otherwise, he was either closely matched in race performance with Senna, or significantly ahead.
2013
For 2013, Bottas headed off Pastor in both qualifying and in points, however, a closer look reveals that Maldonado finished ahead in the majority of races, culminating in the only EBD point of the season scored in Hungary after a strong drive. Sadly for Pastor, when Williams finally peaked, it was during one of the less frequent occasions in which Bottas had the edge- not that it made much difference to Pastor's career.
the bad
There is a fine line between madness and brilliance. Arguably, you cannot have one without the other. Sadly, Maldonado found himself more often than not, on the wrong side of that equation. Maldonado's errors, collisions and generally aggressive attitude are a part of racing legend for all the wrong reasons, both prior to F1 and during his 3 seasons at Williams It became apparent during 2011 that he was more concerned about asserting his ego over his fellow competitors than in landing actual results for the team, and as time dragged on, that can't have had a good effect on the morale of the team or the fans- in spite of his win.
An early embarrassment came when crashing in-front of Chavez during what was supposed to be a positive demonstration run in Venezuela. Not the best of adverts when trying to justify to his shareholders why the government was paying him rather than suppling them with toilet paper.
But it got worse. Increasingly, Pastor's pis-sing contest with other drivers caused consternation amongst his peers and the FIA- he was bringing the sport into disrepute, using his car as a weapon to veer, firstly at Hamilton in Belgium 2011 after Hamilton had made a similar gesture, and secondly at Monaco 2012 after Perez blocked him in on a fast run during practice, breaking Perez' front wing. It's hard to quantify whether this had a negative impact on Williams beyond the actual penalties it brought, (Pastor has the pace to land some good points in Monaco that weekend, and who knows what he could have done beyond 10th in Belgium 2011 without that penalty?), but whats clear is that over the course of his three seasons at the team, Maldonado regularly brought more infamy and bad will on himself and the team than any other driver in Williams' history.
Objectively, this cost Williams little in both 2011, and 2013.
However, In 2012, he threw away points due to his own errors in Melbourne, Bahrain, Monaco, Canada, Europe, and Britain, whilst suffering the misfortune of being taken out of 3rd in Belgium during the start crash, a hydraulics failure running in 3rd in Singapore, and a KERS failure in 2nd in Abu Dhabi. If you focus solely on his personal errors, and ignore the rest, Maldonado perhaps cost Williams 2 places in the constructors championship, although its worth considering whether such points would have been on the cards in the first place had another driver been sat in the seat.
At times, one began to wonder whether Maldonado was racing to score championship points, or burnout-points.
Perhaps explaining this uninhibited approach to racing, as Gene asserted, his employees fully appreciate a fighter. Furthermore, It's very unlikely that a string of quiet safe runs to P7 would have done much to assuage the £30,000,000 investment Venezuela had made in him. He needed headlines, and he rarely had a car in which to make them.
Sadly, Pastor frequently overstepped the mark, and this approach cost Williams a lot in terms of championship points. In a bizarre way, it was Venezuela, and not Williams he was trying to please, and from that perspective, he rarely looked like he was racing FOR Williams, but rather, for himself and Venezuela. In that sense, he was a terrible team player, as illustrated when he publicly accused the team of tampering with his brake-pressures in the USA GP and declaring that he was "happy to be leaving". Noone could ever accuse Maldonado of not trying his utmost, but the question I ask is whether it was for the benefit of a privateer racing team from Britain, or for himself and his nation? No matter how often he let the team down, Maldonado never seemed to care.
His Departure
After PDVSA had pumped so much money into the team, the step backwards from 2012 to 2013 proved unacceptable. PDVSA and Williams met in Venezuela to discuss a severance of the sponsorship deal for 2014. This left Williams needing to search for fresh sponsorship, and so an agreement was reached in tandem with Maldonado to allow him to look for employment elsewhere too, eventually landing a seat with Lotus.
Summary
So how do you sum up Pastor Maldonado? With great difficulty. A schizophrenic blend of incredible highs and ridiculous lows, a highly talented driver capable of exceeding the cars potential, capable of putting Williams back at the sharp end, capable of saving Williams from the financial wilderness, yet constantly dangling success infront of jaded Williams fans, only to throw it all away in a gravel trap, a barrier, against the sidepod of a competitor or in the stewarding office, selling the team a long way short in the final standings when given his best opportunity in 2012. He performed well across a season in 2011 vs Barrichello, and put in a solid season in 2013. He proved talented enough to finish Barrichello's career, and in doing so, subverted the rule that pay drivers plays second fiddle to the established pro to such an extent that for the following two years, Williams attempted to cast him in the mould of team leader which simply didn't fit him.
He raced with reckless abandon in a way that only someone with their boss in their pocket can do. He wasn't racing for points- he was racing for glory. He raced to satisfy himself, his Venezuelan backers, and to show his team bosses that he was a fighter, yet through poor decision making, never managed to win the respect he was striving for.
There are no parallels here. A wastrel, A terrible team-player, a terrible ambassador for the team, whilst at the same time, the most lucrative, talented pay driver in Williams' history, gifting them £30,000,000 in the middle of a recession which allowed Williams to carry on fighting, and still being talented enough to beat Alonso in a straight fight to win a glorious race for Williams that was worth so much more to Williams than the sum of it's points, and during a time when so few Williams drivers had looked capable of anything.
How can you measure that contribution to Williams? Delivering a win the team so desperately needed for morale and reminding everyone that Williams was still a team that could win in a way hoarding points in the constructors championship never could. As crucial wins for Williams go, that has to be a contender for 1st place.
So was his impact on Williams a net positive, or a net negative? Does the bad cancel out the good, or do you ignore all the mess and simply measure his positives against the other drivers? How many other drivers on list have brought as much joy pride, and excitement to you as a Williams fan? Or alternatively, as much embarrassment and misery? It's Ironic to think that the net sum of one of Williams' most extreme drivers may turn out to be distinctly average.
Tags: Pastor Maldonado


Categorised in: Race winners

This post was written by Chris