April 8, 2014 12:47 pm
Leave your thoughts
Best WDC Finish for Williams: NC
Total number of races entered for Williams: 3
Total points: 0
Best result for Williams: DNF
Debut:1994 Brazillian GP
Last Race: 1994 San Marino GP
Head to head qualifying vs team-mate: Senna 3-0 Damon Hill
Head to head points vs team-mate: Senna 0-7 Hill
context- nature of arrival
Alain Prost had a contract with Williams for 1994 which prevented Senna from racing along side him. By the 1993 summer break, Prost had amassed a significant lead over Senna in the championship. Frank then called Prost explaining that a lot of pressure had been put on him from Renault to sign Senna. According to Prost, he knew they wanted to win with Mansell, Prost, Senna, Schumcaher- basically they wanted to prove they could win with as many drivers as possible to endorse the idea that their engine was the deciding factor, and at the time, they were already winning with him. He complained about the bad press he had been given back in france for some of his performances on track in 1993, and felt that although the atmosphere within the team was very supportive, he felt that Renault and the french press were very unsupportive. In the end, Prost called Frank back and told him that if Senna wanted to race for nothing, he could, so long as Frank paid Alain his full 1994 wage and allowed Prost to step down. (source- Senna vs Prost- Malcolm Folley)
the car
In an interesting parallel to Andretti, Senna's brief time at Williams was adversely affected by the ill handling current generation of F1 cars. For 1994, active suspension, traction control, ABS and Launch control were all banned, which lead to a rise in the number of accidents. In part, these changes were brought about due to Williams posting a late entry form for the 1993 championship. The rival teams and the FIA only accepted their entry on the condition that Williams allowed the FIA to ban all the technology in which Williams enjoyed a competitive advantage in, so for 1994, the true competitive level of the Williams FW16 was very hard to ascertain. Was Williams late application for the 1993 championship to blame for Senna's inconstancy or was it more Senna's win or bust attitude that was to blame?
The FW16 was criticised for having a very narrow operational set up window, with changes to the set up causing a wide degree of variation between understeer and oversteer.
Ayrton Senna
"I have a very negative feeling about driving the car and driving it on the limit and so on. Therefore I didn't have a single run or a single lap that I felt comfortable or reasonably confident."
"Going back to when we raced at Estoril last September (on testing the passive Williams at the same track 4 months later), it feels much more difficult. Some of that is down to the lack of electronic change. Also, the car has its own characteristics which I'm not fully confident in yet. It makes you a lot more tense and that stresses you."
Adrian Newey, designer of the FW16 commented as follows:
To be honest we made a bloody awful cock-up. The rear-end grip problem was purely a setup problem. We were learning about springs and dampers all over again after concentrating on active suspension for two years, whereas most people had been away for just one. We also had a rather silly aerodynamic problem—basically the front wing was too low—but that was raised for Imola, by which time we were looking in pretty good shape."
"I have to admit that in designing the 1994 car I underestimated how important it was going to be to get a very broad ride height map again…So when the FW16 came out it was too ride-height sensitive, which made it very tricky to drive, even for someone of Ayrton's huge talent"
For Imola, the team changed the wheelbase, raised the front wing, changed the nose profile, and raised the front wing endplates. However, the car still looked to handle poorly even after these modifications, and Hill's form did not improve until France- when Nigel Mansell arrived for a one off race. in Senna- the movie, Senna tells his race engineer David Brown at Imola that the car felt "worse" than ever. The implication here is that Senna and the team were perhaps incapable of fixing the Williams' handling issues, and over-relying on Senna's talent, and the same can be said of Hill and the team, whereas on Mansell's arrival in France, the team was able to solve the car's performance and handling issues. Does this mean that had Mansell driven for the team from the start of the season instead of Senna, the car would have been sorted a lot quicker, and that the Williams would have outqualified Schumacher comfortably at the start of the year without any "brilliance" required had it simply been set up correctly under Mansell's guidance? Or was it simply that the team had more time to understand the problem by the time Mansell arrived to set up what was a very different car to the one at the start of the season? Controversial, but food for thought.
Bernie was quoted by the media at Silverstone stating that Hill would not have been on pole in France but for Mansell, and Hill replied;
"what do you have to bloody do for people to believe you are any good?"
If you believe Bernie's version of events, then the negative implications could perhaps extend to Senna.
I'm torn between thinking that Mansell, with his better understanding of the nature of the Williams may have improved the handling of the car a lot sooner, but as Senna's reputation for technical brilliance goes before him, with many seasons of experience extracting the most from the car, I'm inclined to think it was only with major design changes introduced during Imola and again, Barcelona, that a better handling car was made possible, and that Mansell simply helped Hill extract the performance that was already there by the French GP, and wasn't there at the start of the year. In additition, Senna had only been at the team a few months, Mansell had been there for years, and that is simply a matter of circumstance and not a reflection on their relative technical capabilities.
Frank Williams
"I felt in all truth that we'd been given a great responsibility providing a car and we let him down" 
"We would probably have won the championship four years running, it took us a while to get our car sorted because it was very difficult at the start. But then it got sorted and dear old Damon did a great job with it"
" he said "there is no question those cars are cheating" I'm convinced that before he left the line at Imola Ayrton said to himself "there is no way, before my maker, that he will beat me today"
"Ayrton, well, he was just a world class event. I can't say that I'd waited 10 years since that early test he'd had in our car at Donnington, but Williams was an inevitable destination for Ayrton wasn't it?"
Impact on the team
Damon Hill
Senna is a man totally absorbed" You get the feeling his work input will have a motivating effect on everyone in the team. It's like putting in new batteries" "Ayrton was very different to Alain, he needed to win. It wasn't a beautiful experience to drive that car. It got better as the year went on."It wasn't quite set up right. I know now what we should have been doing which is the annoying, teasing thing that you only learn later"
Hill on brazil "I would describe the car as virtually undriveable in the slow corners, and in the quick ones, it threatened to turf you off the track at any moment"
Patrick Head
"Ayrton was a very powerful personality and quite broody. He projected his unhappiness with the way things were going to the whole team"
"It was not an unfriendly relationship with Ayrton but it was always tense. We could quite clearly see how stunning he was, but we never developed a human relationship with him as a driver"
A royal "we" perhaps…
Virginia Williams
"Frank and Ayrton had an extraordinary relationship.It was like a father and son. Ayrton always used to come and have dinner with us- I think even before he was at McLaren. He and Frank would have very long conversations after races, even during the McLaren time. when Ayrton signed, Frank was thrilled. I think we thought, and everyone else thought that Ayrton and Williams and Renault would be the golden combination and noone would get near to him"
Ian Cunningham
Ayrton had come round a couple of times. He's said "Look, we're having a really tough time but we are going to get better because there is plenty of potential" He was upbeat and it gave everyone a tremendous lift. I took him around the factory first time and he had photographs taken with everyone. There was an old boy called George who swept the floors. As Ayrton went by, he spotted George sweeping up behind a milling machine. What about him? He asked- George got his photo. Robin said Frank did cry on the flight back from Imola. that was the only time I heard of any real emotion. I remember at the time of the contract Frank had no real interest in the terms and conditions"
Alan Challis
"I was fortunate enough to be at the test Ayrton did at Donnington in 1983. I rang Patrick again and said "this bloke's a bit quick" When he asked what I meant, I told him the lap times, which were quicker than Keke had gone, and Ayrton had done those times very early in the test"
best moments
1: Brazillian GP 2nd Qualifying Session
Senna P1
Hill P4
1.6sec margin
(Hill suffered a fire extinguisher going off inside the cockpit and an electrical failure robbing him valuable time with the new car in practice, he complained of the wrong set-up in qualifying and the race as a result, and was suffering from flu throughout the weekend, which was why he ended up 1 lap down on Schumacher (and Senna until Senna spun out)
(watch from around 16mins-20mins in- Schumacher takes pole and Senna responds)
I'm fairly certain no-one, not even Prost or Mansell could have beaten Schumacher to pole on three successive occasions driving the FW16 in it's current state. These really were three "great moments" – this one in front of his home crowd against enormous odds. Hill was not able to push the car anything like as hard as Senna was able to, and Senna managed to keep this intensity up routinely in practice, qualifying, and for the first 55 laps of the Brazillian race.
He then led the Brazillian GP from Pole until the first pit stops, whilst his multiple-gp winner teammate raced in 4th before finishing 2nd, a whole lap down. Although Hill was suffering from flu, nothing he did in the following handful of races suggest that he could have emulated Senna, and this was Senna's first GP for the team, whilst Hill was already well established. How many drivers have lead a race on merit for Williams? Watching that race again, it really is apparent how horrible that car was compared to the Benetton- being hunted down by Michael whilst racing a bucking bronco on ice, as the rest of the field were left for dead. It's clear that maintaining the same dominant pace he demonstrated on isolated runs during practice and qualifying were not possible over an entire race distance. (In the event, he raced slower than qualifying relative to the Benetton, and still crashed out, implying that the task of beating Schumacher was impossible with hindsight)
2: Pacific Grand Prix First Qualifying Session
Senna P1
Hill P3
0.5sec margin
(watch from about 6mins in, check out Senna's exit onto the start finish straight!)
again, a great lap- Aida was a track full of slow technical slow corners where extreme care was needed, and as Hill said, the car was almost undriveable in the slow corners. The Benetton excelled in the slow stuff, and even when the Williams was vastly improved later in the year, Hill couldn't touch Schumacher at tracks like Jerez or Hungary, making this pole for Senna at Aida perhaps his most emphatic for Williams.
3: San Marino Grand Prix Qualifying
Senna P1
Hill P4
0.6sec margin
again- Senna was keeping Williams at the races in a car that was fast, but only capable of being driven safely by driving slower.
4: Imola- warm up
Senna went 0.9 seconds faster than Hill in the race warm up
Damon Hill
" I knew that Ayrton was out to dominate proceedings that day. I was 0.9 seconds slower and I was happy with the car: I knew exactly what I'd had to do to set that time. So it was clear that Senna had tried very hard to indeed to set that time. It seemed to me that my teammate was playing a psychological game here because when you know someone is almost a second a lap faster, it can demoralise you before the race has even started. I was not too worried because I was happy with the pace I was running at: I knew I could keep that up during the race whereas I didn't think Ayrton could. It was going to be be a very interesting race"
worst moments
1: Spinning out of the Brazillian GP in front of his home crowd, then stalling- ouch.
having fallen 8 seconds behind Schumacher due largely to slower pitwork (some things never change!) Senna really put the hammer down and carved 3 seconds off Schumacher's lead before spinning out of the race. Yes- he had a genuine chance of a win, and he was under enormous pressure, both from himself and his fans, but I wonder whether a driver like Prost would not have seen this as a "win or bust" scenario, accepted how evil the car was to drive, modified his pace accordingly and instead, settled for an easy second and lived to fight another day? In many ways, there is a sense that Senna was unable to admit defeat, and that this was his greatest strength- and weakness. I wonder whether we would have judged Senna more favourably or less so had he adopted the Prost approach and finished a distant second instead of retiring and coming home with nothing, yet having made a heroic fight of it? I guess if it had ended up costing Senna a title, he would have been judged more harshly. Instead, it was was simply very embarrassing. It's one thing spinning in practice or qualifying, but Hill didn't retire from a race through driver error during this period, despite driving an equally evil car, and that is a testament to his more measured approach. Sadly, Senna would barely get going in the other two races due to events outside his control, so this is the only race we can fairly judge Senna on, and it ended just as Andretti's did.
Problems with the FW16 in Aida practice for both drivers. Clearly, Hill struggled too, and deliberately drove slower in order to keep it on the black stuff. Prost taught him well.
Other notable events
Crashing out of the Pacific Grand Prix
Totally not his fault here, although an incident that ramped up the pressure on the Brazillian
Crashing out of the San Marino Grand Prix
This isn't something I want to get into a massive discussion on because it has already been discussed exhaustively elsewhere.I have not included it in the "worst moments" section because I do not believe any error was made by Senna. For all the fact that Senna was trying desperately hard, possibly too hard, to beat Schumacher who was hounding him for the lead, I personally do not believe the crash was brought about due to driver error, and I think those that do are very much in the minority. According to Newey, he saw the car bottom-out much more than normal as it hit the bump after the start finish line on the fatal lap, and he felt that this was due to a slow puncture of a rear tyre caused by debris on track after a crash on the start finish line. As a consequence, the car hit the floor, and all downforce was lost from the underside of the car, pitching the car on a deadly trajectory at the worst possible spot on the track. The corner was flat out, and he positioned the car in the same way as any other lap with the same steering input as normal. Senna reduced the throttle input by half to regain control of the car before hitting the brakes. I'm not sure what else he could have done.
It's not strictly relevant to this thread, but to complete the story, I will link this video which I have always found pretty emotional.
Summary
One of only 2 Williams drivers never to record a race result in a grand prix, Ayrton Senna was statistically, the joint worst contributor to the Williams legacy alongside Mario Andretti. Alternatively, he was probably the greatest driver ever to race for Williams, so this makes ranking him the most challenging decision of all. Ultimately, he achieved 3 great qualifying laps for Williams, and maintained a race challenge in brazil that was beyond other drivers, and even beyond himself, so personally, it is this contribution that I will use in comparison to other drivers. Senna exceeded the limits of his car in three qualifying sessions and most of a race before crashing out. How many other drivers' can say they managed that?
I guess a lot depends on how much value you place on qualifying. No points are scored on Saturday, It all amounted to absolutely nothing in the race, but that doesn't mean it didn't happen and doesn't mean people wont remember his efforts fondly. I don't think anyone else could have put the car in that condition on pole. To do so on three consecutive occasions was brilliant. These weren't just three poles, these were 3 "great" poles. For those performances alone, they wholly eclipse anything Andretti achieved in the FW08- a car that seemed equally difficult, yet equally capable of great speed back in 1982.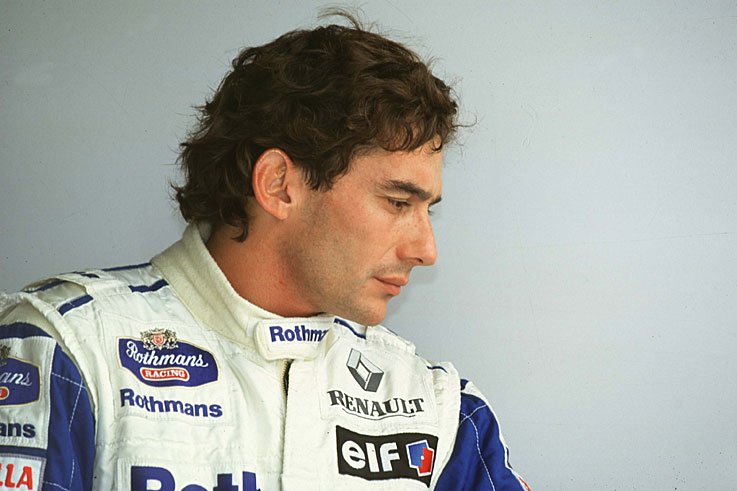 Tags: Ayrton Senna


Categorised in: Drivers Championship runner-up

This post was written by rrafekaj